CanPrev
CanPrev Adult Multi 60 veg capsules
SKU: CP-1022-001
UPC: 854378001493
Recommended Use:
Vitamin supplement, mineral supplement, vitamin/mineral supplement, multi-vitamin, multi-mineral or multi-vitamin/mineral. A factor in the maintenance of good health. An antioxidant for the maintenance of good health.

Directions: Adults - Take two (2) capsules daily with food and a few hours before or after taking other medications or as directed by a healthcare practitioner.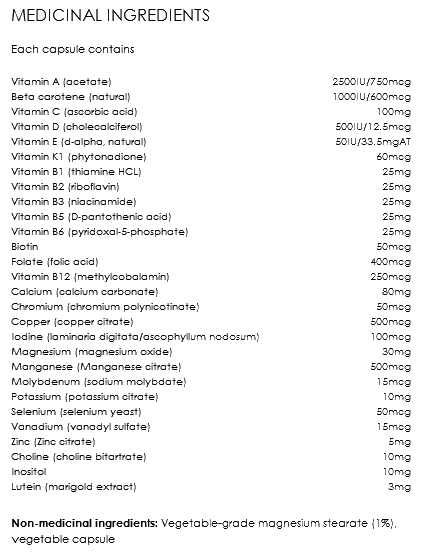 CanPrev Adult Multi
Basic nutritional needs are covered by the food you eat, but taking a premium vitamin and mineral supplement is like having an extra insurance policy for your diet and immune protection.*
Our health would be compromised without the necessary vitamins and minerals.* They keep our cells strong and our organs functioning properly, help fight infection, regulate metabolism, help form bone and tissue and convert fat and carbohydrates into energy.* Taking antibiotic, cardiac, diabetic, diuretic and gastrointestinal medications can deplete our bodies of important vitamins and minerals.* We need to make sure we're replacing them with a high potency, professional grade supplement like CanPrev's Adult Multi.*
Adult Multi is a comprehensive formula made for both men and women. It provides a full range of vitamins and minerals in therapeutic dosages and bioavailable forms for rapid absorption and utilization.* Adult Multi is iron free for those who don't require iron supplementation.*
*Disclaimer
These statements have not been evaluated by Health Canada or the FDA. This product is not intended to diagnose, treat, cure, or prevent any disease.