Ingredients:
organic pears, water, organic kale, organic peas, organic acerola, organic quinoa, organic lemon juice concentrate.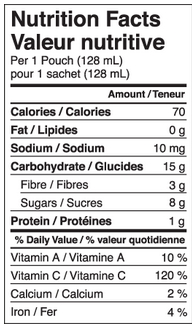 Love Child Organics Baby Food Pouch with Quinoa, Pears, Kale and Peas for 6 Months and Over
All parents love it when children eat their greens! Our kale, pea and pear recipe is nutritious, mild and very good indeed (according to our baby tasters!). The kale and pea are present yet not overpowering, gently sweetened by the pear.* It is a great way to introduce greens to your baby.*
Benefits:
With quinoa and acerola.*
No added sugar.*
Gluten free.*
natural source of vitamin C.*
*Disclaimer
These statements have not been evaluated by Health Canada or the FDA. This product is not intended to diagnose, treat, cure, or prevent any disease.