NutraCentials Raspberry Ketones Nx 90 Capsules
NutraCentials Raspberry Ketones NX with Razberi-K is known as "THE ORIGINAL RASPBERRY KETONE". NutraCentials Slimming Essentials Raspberry Ketones NX has the authentic material used in weight loss research conducted by Dr. Tim Ziegenfuss at the Wadsworth Medical Center in Ohio. Raspberry ketones naturally occur in red raspberries and when used in their pure-form perform as one of the most powerful fat burning compounds legally available.

Three Key Benefits To Taking NutraCentials Slimming Essentials Raspberry Ketones NX with Razberi-K For Weight Loss:
Shrinks fat cells by increasing hormone sensitive lipase (HSL)*
Increases norepinephrine induced thermogenesis*
Suppresses fat absorption and weight gain*
Provides antioxidants*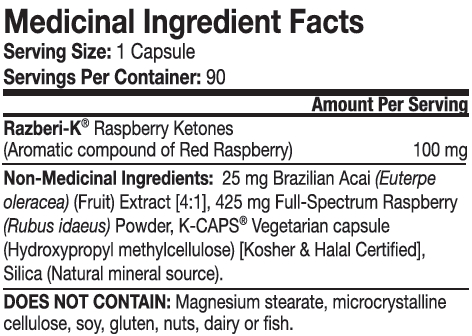 Recommended Dosage & Directions: Take 1-2 capsules before your two largest meals on an empty stomach with a glass of water. For even faster results combine with healthy eating habits and an active lifestyle.

Warning/Risk Information: Consult a health care practitioner prior to use.
*Disclaimer
These statements have not been evaluated by Health Canada or the FDA. This product is not intended to diagnose, treat, cure, or prevent any disease.