Ingredients: organic apples, organic sweet potatoes, water, organic beets, organic quinoa, organic acerola, organic cinnamon, organic lemon juice concentrate.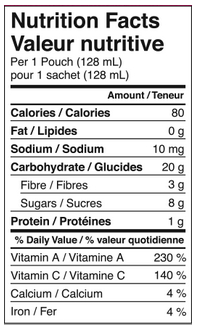 Love Child Organics Baby Food Pouch with Quinoa, Apples, Sweet Potatoes, Beets and Cinnamon for 6 Months and Over
The autumnal flavours of this absolutely delicious combination will have babies bouncing for more and parents dreaming of Thanksgiving dinner with all the trimmings!* The tanginess of the apples is perfectly balanced by the sweet earthiness of the sweet potatoes and beets.* The delicate touch of cinnamon rounds out the tasty flavour of this hearty and wholesome combination. We know your little one will gobble it up!*
Benefits:
Excellent natural source of Vitamin C.*
No added sugar.*
Gluten free.*
Organic*
Minimally processed.*
*Disclaimer
These statements have not been evaluated by Health Canada or the FDA. This product is not intended to diagnose, treat, cure, or prevent any disease.