Ingredients: organic apples, organic spinach, organic kiwi, organic broccoli, water, organic quinoa, organic acerola, organic lemon juice concentrate.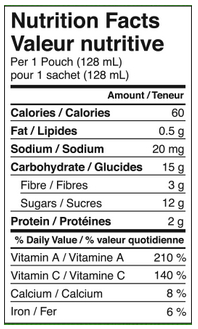 Love Child Organics Baby Food Pouch with Quinoa, Apples, Spinach, Kiwi and Broccoli for 6 Months and Over
Your little one will be asking for, "more spinach!" after trying our newest and greenest Super Blend.* With the goodness of spinach, kiwi, broccoli and apples (and of course quinoa and acerola! ) it is hard to imagine a more wholesome combination.* Even better, it tastes absolutely delicious! ! Sshhh-the tangy kiwi is definitely the secret taste ingredient! Your baby will love eating her greens and your 3 year old may even be converted!*
Benefits:
Excellent natural source of Vitamin C.*
No added sugar.*
Gluten free.*
Organic.*
Minimally processed.*
*Disclaimer
These statements have not been evaluated by Health Canada or the FDA. This product is not intended to diagnose, treat, cure, or prevent any disease.