Ingredients:
organic apples, organic banana puree (organic bananas, organic lemon juice), organic blueberries, water, organic acerola, organic quinoa, organic lemon juice concentrate.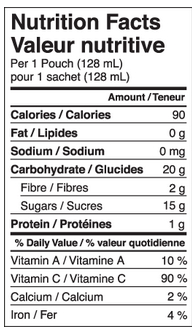 Love Child Organics Baby Food Pouch with Quinoa, Apples, Bananas and Blueberries for 6 Months and Over
Another one of Love Child Organics 'super' purees, this time with the goodness of delicious, organic blueberries.* The banana adds a touch of sweetness and helps keep your little one going.* Great on its own or with yogurt or cottage cheese.* Yum! Always a favourite!*
Benefits:
Excellent natural source of Vitamin C.*
No added sugar.*
Gluten free.*
Organic*
*Disclaimer
These statements have not been evaluated by Health Canada or the FDA. This product is not intended to diagnose, treat, cure, or prevent any disease.