Ingredients: organic apples, organic plain 3.8% M.F. yogurt (organic milk, organic skim milk powder, bacterial cultures), organic strawberries, organic rhubarb, water, organic millet, organic amaranth, organic lemon juice concentrate.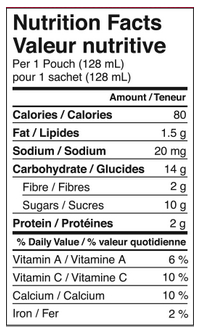 Love Child Organics Baby Food Pouch with Grains, Yogurt, Apples, Strawberries and Rhubarb for 8 Months and Over
This classic blend of sweet strawberries, tangy rhubarb and tasty apples can only be described as summer in a mouthful.* With the creaminess of whole milk yogurt and the hearty addition of the super grains millet and amaranth, this delicious blend will be an instant hit with little ones and for moms who will love this nostalgic combination.*
Benefits:
Excellent natural source of Vitamin C.*
No added sugar.*
Gluten free.*
Organic*
Minimally processed
*Disclaimer
These statements have not been evaluated by Health Canada or the FDA. This product is not intended to diagnose, treat, cure, or prevent any disease.