Amazing Grass Green SuperFood
Get a daily dose of nutritious whole greens with Amazing Grass Green SuperFoods. Every serving is chock full of all of vitamins and minerals. Plus it tastes great! Add our superfoods to any beverage for an energizing start to your day.
Promote detoxification, energy and immunity.* Our Original Green Superfood blend is based on the first blend of organic farm-harvested greens to begin bringing our SuperFoods to you.
Features and Benefits
Our Premium Blend of SuperFoods Provide Amazing Energy & Amazing Health!
Help you achieve your recommended 5 to 9 daily servings of fruits and vegetables*
Naturally helps to detoxify and boost your immune system*
Probiotics and Enzymes to aid digestion and absorption*
Complete raw food with powerful antioxidants*
Alkaline green plant foods balance acidic pH levels*
Contains some organic ingredients
Featuring Sambazon organic pure açai powder
No soy lecithin fillers
Nitrogen packed for freshness
Recommended Use
Mix 1 scoop with 8 or more oz. of water, juice, or your favorite smoothie. 1-3 servings daily.*
Green SuperFood is blended to perfection in a delicious tasting powder that mixes well with juice, water or your favorite beverage. A full spectrum of alkalizing green superfoods, antioxidant rich fruits, and support herbs unite with Acai and Maca to provide a powerful dose of whole food nutrition.*
*Disclaimer
These statements have not been evaluated by Health Canada or the FDA. This product is not intended to diagnose, treat, cure, or prevent any disease.
Nutritional Facts: Amazing Grass Green SuperFood Original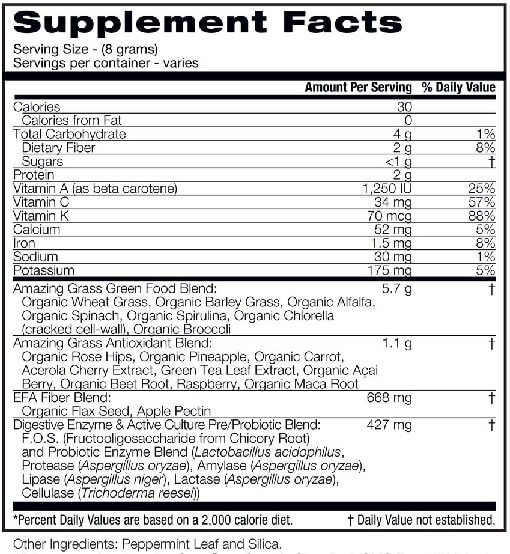 Nutritional Facts: Amazing Grass Green SuperFood Berry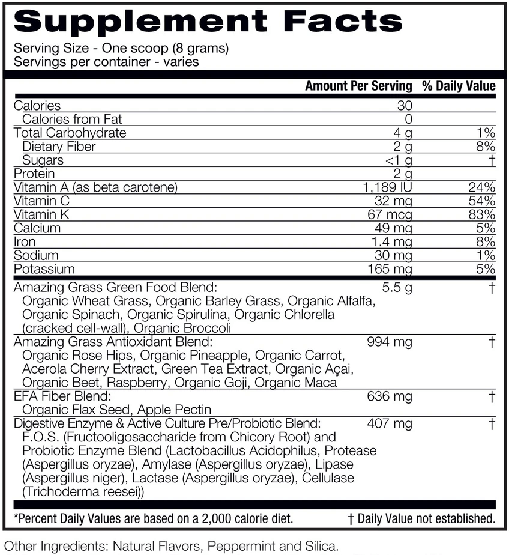 Nutritional Facts: Amazing Grass Green SuperFood Chocolate